Ending Violence Against Women
Athira Nortajuddin
This file photo shows an Indonesian activist standing next to a banner that reads «We are human beings not commodities» in Jakarta. (AFP Photo)
You might have seen a few posts from friends or organisations on social media which highlight the colour orange alongside the hashtags #OrangeTheWorld and #GenerationEquality these past few days.
The campaign, "Orange the World: Fund, Respond, Prevent, Collect!" is the theme for 2020's International Day for the Elimination of Violence against Women which falls on 25 November every year. Even some iconic buildings and landmarks will be "oranged" to recall the need for a violence-free future. This can be seen from the Pyramids and the Sphinx of Egypt which was lit up in orange to kick off the 16 days of activism against gender-based violence.
Violence against women and girls (VAWG) is one of the most widespread, persistent and devastating human rights violations today, affecting one in three women in her lifetime. The 'Declaration on the Elimination of Violence Against Women' issued by the United Nations (UN) General Assembly in 1993 defines violence against women as "any act of gender-based violence that results in, or is likely to result in, physical, sexual or psychological harm or suffering to women, including threats of such acts, coercion or arbitrary deprivation of liberty, whether occurring in public or in private life."
VAWG comes in many forms that include intimate partner violence such as femicide and marital rape, sexual violence and harassment, human trafficking, female genital mutilation and child marriage.
Unfortunately, violence against women is a common problem in many parts of the world including the Asia-Pacific region. Over 37 percent of women in South Asia, 40 percent of women in Southeast Asia and 68 percent of women in the Pacific have experienced violence at the hands of their partners.
However, due to stigma, impunity and shame surrounding the issue, many cases go unreported with victims suffering in silence.
While gender-based violence can happen to anyone and anywhere, some women and girls are especially vulnerable such as young girls and older women, women who identify as lesbian, bisexual, transgender, migrants and refugees, indigenous women and ethnic minorities, those living with disabilities and those living through humanitarian crises.
VAWG has devastating physical, emotional, financial and social impacts on victims and communities. It negatively affects women's sense of self-worth, their wellbeing and overall quality of life. Moreover, it affects the full participation of women and girls in education, employment, politics and civic life, which then leads to increasing poverty and inequality.
In A Pandemic
In recent months, many have stayed indoors due to virus fears. COVID-19 preventive measures such as movement control and social distancing have been implemented to curb the spread of the coronavirus. Unfortunately, this means that victims of abuse are trapped inside their homes with their abusers.
UN Women stated that there has been an upsurge in incidents during the pandemic, with some countries reporting a five-fold rise in calls to helplines in the first weeks of the coronavirus outbreak.
Closer to home, some ASEAN member states have also reported a rise in domestic violence cases since the pandemic began. According to a media report dated 24 November, domestic abuse reports in Thailand increased by 66 percent since March. In just the first seven months of 2020, there were 367 reported cases with 242 of them resulting in the death of the victim.
Whereas data from the Legal Aid Foundation of the Indonesian Women's Association for Justice also showed an increase of domestic violence cases in the populous archipelago. Some 110 cases were reported in Indonesia from 16 March to 20 June. The three-month figure is almost half the number of domestic violence cases reported in 2019.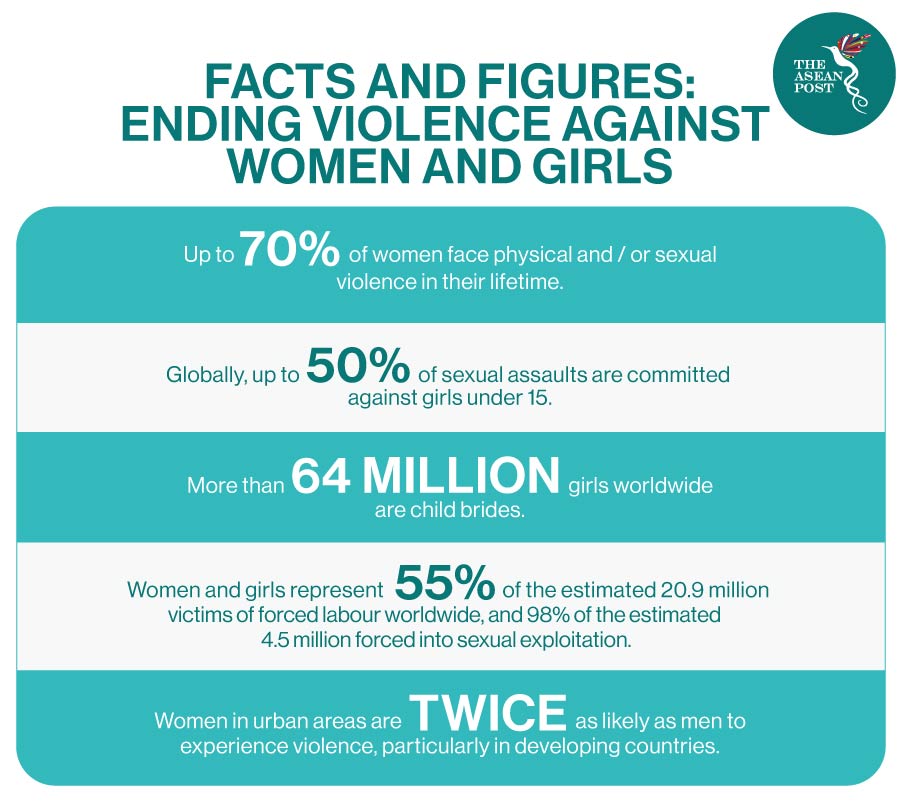 Prevention
A number of efforts to eliminate violence against women and girls have been made across the world. They mainly focus on responding to and providing services for survivors of violence such as support and counselling. Some progress can be seen across the Asia-Pacific region. For instance, 90 percent of countries in the region now have dedicated laws on eliminating violence against women, compared to less than 50 percent a decade ago. A third of the countries in the region have also criminalised marital rape. Also, in 2015, ASEAN member states adopted the ASEAN Regional Plan of Action on the Elimination of Violence against Women.
Nevertheless, prevention is the only way to stop VAWG before it even happens.
"Addressing the structural causes, as well as the risk and protective factors, associated with violence," is crucial to ending violence against women and girls completely, suggests UN Women.
"It requires political commitment, implementing laws that promote gender equality, investing in women's organisations, and addressing the multiple forms of discrimination women face daily."
Some prevention strategies include educating and raising awareness among all members of the public including women and men, and boys and girls. For instance, in the Asia-Pacific region, UN Women works with other UN agencies on the Partners for Prevention programme that aims to reduce the prevalence of gender-based violence in the region through behaviour and attitudinal change among boys and men, as well as increased institutional capacity and policy enhancements.
Fuente de la Información: https://theaseanpost.com/article/ending-violence-against-women