Oceania/ Australia/ 12.05.2020/ Source: www.smh.com.au.
Balloons and confetti greeted year 3 students as they entered their classroom at Emu Plains Public School on Monday, enthusiastic to return to school grounds after five weeks of learning from home.
But it wasn't the usual set-up: desks were arranged to allow for 1.5 metres between students, and teacher Kylie Hamersma supervised rather than taught lessons while students completed independent learning activities.
Most parents and students abided by the state government's guidelines on the first day of its phased return to school plan, where 25 per cent of students attend school each day and complete one mode of remote learning.
Twenty-six per cent of secondary school students and 39 per cent of primary school students worked from inside school gates on Monday, which included students who were rostered to attend school as well as children of essential workers.
An average of 37 per cent of all public school students were on campus, which is more than the 15 to 17 per cent who showed up last week but far from the influx of students some principals were concerned would show up.
NSW Education Minister Sarah Mitchell on Monday said the Department of Education's 2200 schools had been supplied with 550,000 hygiene products to prepare them for the return of students, including 20,000 rolls of toilet paper, 20,000 bars of soap and 40,000 bottles of hand sanitiser.
"The list is extensive and those supplies will continue to be rolled out across our school communities throughout this term," she said. "Parents should have that reassurance knowing our schools are safe spaces, and we have prepared well for our students to go back to the classroom."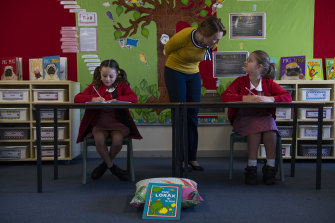 NSW independent schools have crafted their own plans for the return of students to face-to-face teaching, with many reporting high attendance rates on Monday.
About 95 per cent of students who were rostered to attend Cranbrook School showed up, and 90 per cent of those scheduled for face-to-face learning at Trinity Grammar School went along.
"Numbers were at the upper end of our expectations, with almost all who were eligible to return to face-to-face [classes] attending, and more sent to school for remote learning supervision than before," Trinity headmaster Tim Bowden said.
Only seven students were absent from Pymble Ladies College's year 3 cohort, which was invited back on Monday, while the majority of rostered students attended MLC.
Meriden in Strathfield saw 99 per cent of year 12 and 95 per cent of year 7 back, with most of the senior school otherwise staying home. But about a quarter of the primary school students came to school, even though they were not rostered to attend.
North-west Sydney school Barker College, which invited all students back full-time from Monday after an extended school holiday, registered about a 90 per cent return rate.
Premier Gladys Berejiklian on Monday repeated her hope to have all school students back in public schools full-time by May 25 if the next two weeks progressed smoothly.
But she warned parents they should be prepared for schools to temporarily close due to new cases of coronavirus, as the state eases lockdown restrictions.
"That will be the new normal when it comes to education," she said. "Your schools might be temporarily disrupted, but as far as the education system is concerned, we'd like to think that now that schools are back they will stay back for the duration of the pandemic."
Source of the notice: https://www.smh.com.au/national/nsw/students-stick-to-attendance-guidelines-as-schools-welcome-kids-back-20200511-p54rra.html